Home
Events
Gallery
CCWA
CURRENTS
Sept. 1999
What follows is an edited version of our newsletter "CURRENTS". To get the full printed version, just join the club using the membership form below, and get the complete newsletter delivered to your mailbox every month. Send submissions to the newsletter to LooseClu@prodigy.net.
Commodore's Notes:
Well I guess we all survived the storm!! Too bad it looks like the passing of the storm took most of the remaining wind with it. Been light all week. I did see Craig and Philip out on the bay this last week. Big sails, good sailors. Took the opportunity of light winds (that's the optimist in me looking for something good to say about light winds) last weekend and went with some friends about 20 miles down the beach. The water was sure clear, but the beach was totally covered in trash. Sad comment on our society to see that much clutter.
Don't forget about the offer from the Houston area club for us to join them at Lake Texana the first weekend in October.
Now's the time to start thinking about nominations for club officers for next year. Be sure not to miss any meetings from now till the end of the year. You might get elected!!
I've been encouraged over the last two weeks by telephone calls from new sailors that are either already in the area or are headed this way. Those of you who have been missing the full moon the last couple of months may have missed the best. The weather could not have been any better. The land sailors have been taking advantage of the light winds at the beach. I don't think I'll be able to keep Pam from getting one. She's hooked.
See you on the water. -- Chester
Biff Races the Navy Regatta (Guy R. lashes out)
What the CCWA lacked in numbers we certainly made up for in, well, maybe not... 'twas
hard for some of us to get motivated to go out in barely-planing conditions, but we were there, by golly. Of course, our Illustrated Leader Chester H. faked a page back to work before he could come out and suffer and be humiliated with the rest of us. As if the winds weren't light enough, nobody had a longboard. Plus, a good part of the course was directly in the lee of the Columbus replica ship the Ninny. Plus we were dodging Sunfishes in one of the heats.
That basically left Craig Greenslit, Pete Nordby, and Jay Ernst to run circles around the rest of us. Literally. Normally, these guys perform well because they're excellent sailors. Not this time. At the Navy Regatta, they won because they're hollow-boned, skinny, pencil-necked stick boys with sails the size of solar eclipses. Thanks to Jay for coming all the way from Houston just to show us up.
The good part was the party, Luau-style afterwards. Complete with coconut bras on female Hula dancers, followed by some male Navy and Yacht Club members doing an act that will cause recurring nightmares in all who observed the spectacle. There was enough porcine flesh to keep up the Cardiologists' boat payments for months, and basically a good time was had by all. The final score after Course racing and a long distance was as follows:
1. Skinny guy
2. Another skinny guy
3. Yet another skinny guy.
4. Who Cares?
5. Who Cares' spousal unit.
6. Some other people.
7. Everybody else.
Sincerious thanks to the Crab for organizing it yet again this year. We always seem to have fun, whatever the wind does.
Editor's Puffs: by Roy Tansill
Wow! Another year has ticked off and , despite my efforts at denial, another increase in personal anniversaries has been tacked onto my resume. There are few things in my life that have hung around longer than windsurfing and I'm downright thankful that the one sport I've stuck with rewards me with no more than a good dowsing when I inevitably make an error. It sure beats the results of such go for it spirited errors while street skating (a former activity) or worse yet rock climbing. But sometimes, usually due to an error in judgment, even windsurfing can get beyond scary....
I received this e-mail from Richard Harvey to which I think we all ought to give some serious attention:
"Saturday, a windsurfer got struck by lightning while sailing off of NAS. He is in critical condition at the USA burn center. I sailed with him once in the spring, showed him some techniques and answered a lot of questions. He was a beginner but was extremely enthusiastic about the sport. Just a really nice guy. He is in flight training in the Navy and is from Utah. He spent all his free time learning the sport. I hope he makes it. Let this be a lesson to us all to watch the weather closely while we are out there."
This occurred in Pensacola (the other Gulf NAS) and Richard received the original message from Bob Hurst, the fellow who had sailed with the victim. I have often gone out before a thunder storm looking for that 10 minutes of hard wind. Finally, at my present age, I know better. We all teach friends how to sail and help other beginners with advice. I don't think I ever mentioned the dangers of lightning except when I was officially employed as an instructor. I also think I'll try to work that in the next time I'm just talking to a beginner--its sad this navy flyer didn't know better.
USWA National Championships in San Francisco:
Biff Prezents: The United Skates Windboarding Naturals in San Diego.
The main problem with San Francisco, California is that it's like, far. I don't just mean you hafta stop by the side of the road if you drank too many Cokes far. I mean it's what ten hours and we're still in Texas and some all-new biological organisms have mutated and started a colony in my shorts oh my gosh we're never gonna get there far. I think they should move the whole town closer, to, like Robstown before the next Nationals.
On the plus side, the (other) Bay Area was refreshingly free of violent tectonic activity the whole time Buphee and I were there. Furthermore, it's a pretty cool town. No, I mean literally. Wake up to low 50s. Then it soars to like 61 by 2 PM. Someday we hope to visit in Summer. July ain't it... The wind was moderate. Despite the constant assertions by the locals ("Yeah- it blew 85 knots every day until you showed up"...) we had only fair racing conditions with big guys on 8s and bigger. We know, we tell the same lies about Corpus all the time. To tell the whole truth, almost every day at about 2:30 the overcast and fog would let up, the sky would turn bright blue, the warmth would filter into the black neoprene of my (mandatory) wetsuit, and I'd look over my shoulder to see that incredible skyline and the Golden Gate ahead...life was goood!
Speaking of the Golden gate, that is one righteous spooky place to sail. Like, we're not under the OSO Bridge anymore, Dorothy. In flood tide (you learn groovy nautical-sounding terms like that there...) You be jammin' upwind and your eyes play tricks on you. You're only getting upwind about half as fast as normal. Then there are boat wakes where there are no boats. Anywhere downwind of the two HUUUGE bridge towers, the current makes all kinds of peculiar waves, ripples, standing eddies and I dunno what. However, the chop is sooo smooth in Flood tide that it makes CC bay look like a Maytag washer on Superclean cycle.
Ebb tide is another story. Don't screw up or you're goin to Japan. The chop is really, really, REALLY nasty in ebb tide. If you try to lift your sail to waterstart, the clew just rolls down underneath the oncoming current. You'll be there a while. Which wouldn't be so bad if you could stop thinking about the Landlord down there. He's come for the sea lions, but what do we look like in black neoprene? Then there's the boats. Think you've seen big boats? Up close? When one of there babies steams by, it gets DARK. The wind pretty much goes away for a while, too. Don't think you can get out front of 'em, either. They plough on by just about as fast as you can sail DOWNwind. They don't stop even if you're on starboard. The big boats are 2 per hour, ferries every 10 minutes, gawkers, rubberneckers, and other assorted geeks constantly. America One the 12-Meter was on hand at the St. Francis Yacht Club, too.
San Francisco sailors are a great bunch of people. We know most of 'em from the US Open, and Buphee and I got to meet the rest of them there. They are all very good racers and excellent and hearty sailors. They all tend to worship at the altar of Zajcek, the god of Foamed Styrene, but other than that they're OK. It pays to follow them around the course, because they generally know where the favorable currents live and you don't. Try to get cute and tack on a shift? See ya, wouldn't wanna be ya. In conclusion, San Francisco, far, cold, scenic, spooky sailing, carnivorous wildlife, gargantuan ships, nice people. If you're going to San Francisco, just don't grow no flowers in your underwear.
Sinceriously,
Biff
PS: Oh yeah there was some kinda racing goin'on. You should read it in Windsurfing Magazine.
Windgliders Rule at White Rock
Reprinted from the North Texas Windriders Newsletter In The Breeze by Aris Tsamis
Some said it couldn't be done. Some said it shouldn't be done. In the end, it wasn't only
done-it was FUN. What was it? The world's first WINDGLIDER EXTRAVAGANZA.
That's not what we really called it. 'Windsurf White Rock' was an event conceived by the North Texas Windriders with the support of North Sports to introduce lots of folks to the sport of windsurfing. Our goal was to expose as many people as possible to the safe, easy and fun side of windsurfing without all of the complications of high tech competition and endless equipment choices. After endless seconds (almost a full minute), the solution became obvious. WINDGLIDERS! They're easy to sail, new folks look at them and are pretty sure they can windsurf (instead of being pretty sure they can't windsurf) they could be sailed as a one design fleet.... the only problem- getting experienced windsurfers to get on them and race. After all 'real windsurfers' are way too cool to be seen on one.
Weight breaks, men's and women's divisions, just like a real regatta and all on Windgliders. We had 20 charter Windgligers on the water each race. Light wind, rain, mud and still lots of fun. Racers wanted to sail more than we could get them out. Spectators saw nothing but a fun easy sport that they might be interested in trying so guess what- we had an introduction to windsurfing going on simultaneously. 'You think you might want to give it try? Sure we've got an intro clinic starting at 1:00.' 40 people actually got in the water for the first time ever on a windsurfing device and SAILED. Our thanks to Ken Winner and the folks at North Sports for giving us a windsurfing product the average person doesn't have to dedicate half a season to almost learn to operate.
The outcome: around 250 participants donated to our chosen charity. Windsurfing seen on the local TV newscasts (2 channels a total of three times on Saturday). Big photo article in the local Sunday newspaper. The city of Dallas' Assistant Director of Parks and Recreation approaching us about an inner city kids 'City sponsored' windsurfing program at White Rock and a great event for the enjoyment of all our local windsurfers. All in all, a great time was had by everyone and windsurfing in general was seen by lots of folks in our area in a positive and safe light. Everybody should give this type of event a try!
Editor's Note: After talking about such an event with several of the club's racers I was happily surprised to hear they too thought it sounded like fun. Picture such an event downtown at the yatch club for example. And picture a club sponsored race that even people like me would feel like we have a chance to finish before the next heat began. Let's schedule one of these next season!
99 Whataburger Awards- Who Invited Bret?
Saturday, August 21 and a hungry horde descended on Randy Yates' backyard for the raffle we all hoped to win. Never mind that NOAA and the Weather Channel were going on and on about a measly Category II cyclone heading for Mexico. We ate and drank and had a good time when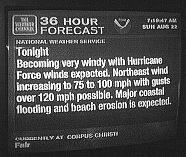 word began to circulate that Bret might be crashing the party and that he had grown into a Category IV beast. Final standings for the Whataburger Series were announced and a sense of urgency seemed to fill the room. The raffle included prizes from Cline Street Sailboards, Zero Gravity Kite gear, Gulf Tech, and Bassett Sailboards. Despite Chester's efforts to rig the drawing Randy's son kept it honest. For his top of the heap finish for the second year in a row, Craig Greenslit was awarded the top of the line Gulf Tech race boom. The custom Bassett board went to Doc Allen and within minutes of the drawing's completion, everyone took off because Bret was heading our way. Even in the face of a menacing hurricane, there are priorities and before the hasty departures everyone had a hand in reducing the level of the ice nestled keg as well as wolfing down yet another kettle full of shrimp, sausage, potatoes, and corn. In addition to the awards goings on, this was also yet another 'going away party'. We are saying good-by to our race director Randy Yates who will be leaving in early September for his new job on the island- of Maui. Also departed before the party was Elon Wong (also going to the Island State) and Mark Franey.
We Are Invited! Received via E-mail from: Maridee Robinson of the Galveston Bay Club
The Galveston Bay Windsurfing Association is having a campout Oct. 2-3 at Lake Texanna near Edna off RT111. The campground is called Brackenridge and has full and partial hookup spots.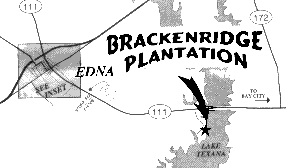 The partial has water and elec. for $12.00. Full is $15.00 and includes sewage hookup. We have 2 reserved on the water just past the pavilion. The sites are treed and they allow a couple tents and one trailer on each site. We may run some races if there are enough to call it a fleet! The End Hotel is nice for those who don't want to rough it! Hope the Corpus gang will come!
Want to Go a Bit Farther?
Regular US Open competitor, Alan Bernau, sent us an invitation to the 4th Annual Naval Invitational Regatta. The Regatta is being put on by the Southern Maryland Windsurfing Association. Alan is the USWA Mid Atlantic Competition Director. The Regatta is being held at the Naval Recreational Center on Solomon's Island in the Southern Chesapeake Bay September 25-26. For more information, call Alan Bernau at (800) 281-4151 or (410)-535-6060

Bird's Eye View:

Wind Peaks
Jun, Jul, Aug '99

Bird's Eye View by Roy Tansill
I'm rather happy to bid August adieu, WorldWinds' metal containers are rather comfortable as long as the winds are funneling through but they closely resemble a 40' pizza oven when the breeze shuts down. The manic depressive wind pattern Corpus has gone through in the last 10 daze of August first chased me out of town then tried to get me fried with their no show after Bret. To add to the joy of a slow roasting, Bret's torrents have produced a bumper crop of voracious skeeters which have taken full advantage of the windless conditions. One good day of 20-25 SE winds will export most of them to the King Ranch; meanwhile, you might want to pack some repellent with you if you're heading out to the island.
My favorite shaggy tan coyote now has a pair of scrawny pups romping around Bird Island Basin with her. They seem to have a full supply of energy despite their rather skinny appearance; their yipping can be heard all around the place as they explore their vast domain. Also spotted this week, just off the drive back into Bird, was a majestic nine point white tail buck. He had to know he was safe in the park as he calmly stood in grass up to his shoulder while even the boat trailering pickups stopped and watched as he slowly moved deeper into the wetlands.
Labor Day weekend is already here and this year that means WorldWinds will be shutting down very soon thereafter. After a couple of years working out there, that prospect is a bit disturbing to me. On one hand I won't have to get up and go to work and I should have more time to just kick back and sail. There is another side of that coin however and I'm going to miss those containers when I'm out there playing this fall. I guess I understand Vicki Duncan's decision to close early and I'm totally in awe of her ability to withstand the physical rigors of so many years running that business. Heck just that week after Bret really wore me out; between the heat, mosquitoes, and lack of wind it was grueling. The good times out there far outweigh the tough times and I'll miss meeting new customers as well as the regulars. I'll especially miss the smiles on the faces of the beginners after they have learned how to do what seemed so difficult just a few hours before. On the bright side WorldWinds will be back next March with yet another coat of paint on the containers. I'm sure I'll be as happy to see them return as I am now sad to contemplate their removal.
Jun Jul Aug
1 25mph 31mph 23mph
2 22mph 32mph 18mph
3 26mph 35mph 15mph
4 28mph 31mph 16mph
5 31mph 22mph 20mph
6 33mph 22mph 18mph
7 22mph 17mph 21mph
8 23mph 21mph 24mph
9 24mph 22mph 24mph
10 26mph 22mph 25mph
11 29mph 23mph 29mph
12 25mph 21mph 29mph
13 21mph 20mph 33mph
14 31mph 29mph 20mph
15 37mph 23mph 21mph
16 24mph 22mph 26mph
17 24mph 28mph 24mph
18 24mph 21mph 21mph
19 18mph 21mph 18mph
20 24mph 22mph 18mph
21 30mph 29mph 23mph
22 30mph 20mph 41mph
23 26mph 21mph 54mph
24 21mph 14mph 26mph
25 25mph 22mph 21mph
26 26mph 24mph 18mph
27 29mph 23mph 18mph
28 24mph 20mph 17mph
29 24mph 22mph 10mph
30 26mph 24mph 13mph
31 - 25mph 22 mph
WHATABURGER '99 THE SERIES
Final Standings
1. Craig Greenslit
2. Peter Nordby
3. Guy Racette
4. Elon Wong
5. Guy Miller
6. Michael Johnson
7. Jennifer Racette
8. Nick Antrobus
9. Jon Bright
10. John Cole
11. Olivier Jallias
12. Kyle Krebs
13. Chester Hulme
Volunteers Wanted: The club sponsored events, both races and fun events, need people to help out on and before the events. This is particularly true for the U.S. Open. Last year, the CCWA was a sponsor and had a booth at the Open; but we didn't have sufficient help to man the booth throughout the event. We don't want that to happen again! Similarly, other events suffered because of a lack of help. How about volunteering your help this year? Just phone an event coordinator and offer some help.
Corpus Christi Windsurfing Association Membership Application
Name:______________________________________Phone: ( )______________
Family membership, list names of family members:_____________________________________
____________________________________E-mail Add:_________________________
Address:_______________________________________________________________
City:_________________________________State:_________________Zip__________
Please enclose $20 for individual; $30 for family (1 year membership)
Mail To: CCWA, PO Box 81453, Corpus Christi, TX 78468
Used Gear:
Classified ads are free to members, non-members: $5.00
Please submit the ads by the 25th of the month.
Mail ads to: LooseClu@prodigy.net
'97 Custom Berky Composites "medium-wide" Slalom board. All carbon, still light. Championship winner. For 5-7 Meters $550.
'98 Custom Berky Composites race board. Still light, Championship winner For 6-8 Meters. $600 Tectonics Mirage 46 cm No gouges $ 90.
Northwave 9.0 '98 model. Long or shortboard. Xlnt. $189. Aerotech 11.0 Championship winner $150 e-mail: gracette@gateway.net

'99-'00 Gear sale: Neil Pryde RX-1: 5.8, 7.1, 8.3, & 9.0 $499. Masts: NP Race Pros 520- $350, 490 -$340, 460- $330, Fiberspars Reflex Waves: 460-$199, 430-$169.
Boards: Mistrals 260 Screamer, good condition $450, 283 Electron, excellent condition $550 Bassetts: 282 race 26x20, 5 weeks old $1050, 8'10" high wind slalom XL, 19" wide excellent condition $350. e-mail: JJE@MGAIA.COM

'99 Starboard Free 262, 87l, light, fast & turny $695. '99 Neil Pryde Supersonic 7.4,
used 3x perfect $495 Phone (361) 853-4954

For sale - Kitchen table and 4 matching chairs $125, small blue velvet armchair $49, plum
velvet love-seat (Drexel) $99, unused day bed $295. Phone (361) 853-4954

For more web classifieds, check out the Windsurfing Classifieds at "the other CCWA".
---
---