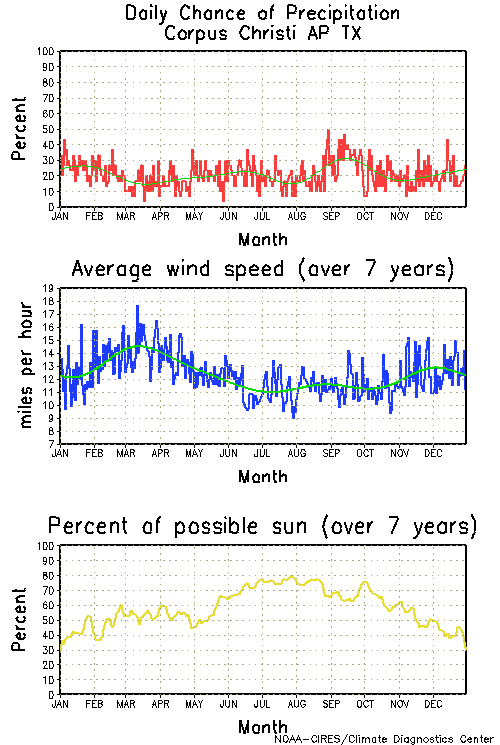 The climate in the Corpus Christi Bay area is considered subtropical and semi-arid. The mean annual temperature is approximately 71 F; winters are typically mild, summers are hot, but cooled by the sea breeze, and temperatures average 56 F and 84 F, respectively. January, the coldest month of the year, has a mean temperature of 55.2 F. July and August are the hottest months with mean temperatures between 85 and 86 F. There is an average of 114 clear days per year. Two principal wind patterns dominate the Texas Coastal Zone -- frequent, strong southeasterly winds (essentially at any time of the year but most pronounced in the spring through mid-summer) and north northeasterly winds associated with cold fronts from October through March. The prevailing wind for the area originates from the southeast and has an average annual velocity of 12 miles per hour. During December, January, and February, 15 to 20 northers pass through the coastal area. Winds up to 50 miles per hour, and sometimes rain, accompany these strong 24 to 36 hour events. From mid October through March, cold fronts sweep though the coastal bend about every 7 to 12 days. Winds range from 20-40+ mph from the N, NE, or NW with water temperatures from 55 to 75 degrees and air temperatures as shown in the charts below. These north winds are usually gustier than the SE winds, but can be good for some great sailing if not to cold for you. The north winds are usually strongest in the mornings. The weak ones can die off by noon, but the strong ones can blow for three days. The prevailing SE wind will usually strengthen at least the day before the arrival of a cold front and can be quite strong. It will usually take one or more days after the north wind dies for the SE wind to come back.
From April through June, Corpus Christi offers some of the best all round sailing conditions as the winds become S, SE, ESE, and strong (20-40+ mph), 2-3 days a week or more. This wind pattern allows for great bump and jump conditions in the bay, high wind flat water sailing at Bird Island and in the Laguna Madre, and onshore wave sailing in the Gulf of Mexico. The prevailing southeast wind is further strengthened by the thermal winds which develop when the air over the heated land in west Texas is warmer than the air over the relatively cooler waters of the gulf. This effect is most pronounced in the spring and summer when it's hot and dry. When the conditions are right, we can have planing winds for many days in a row. If it's cool and wet, we'll have less wind. In the spring, the SE wind strength for the day is usually evident by 1 PM and usually increases to a peak at about 3 PM or so. If the SE wind is strong much earlier, it's likely to be a really windy day. If you are rigging for afternoon sailing, a safe rule is: don't rig before 1 and don't rig down after 3 PM. In the summer, the land/water temperature differential becomes smaller; and it takes longer for the thermals to develop. Planing winds may not develop until about 4 PM. These days can be great, so don't give up on them too early!
For current conditions, check CC wind and weather . For daily and monthly statistics from NOAA, including daily average wind speeds for the past few months (on the F-6 forms), check CC weather summary .

Wind Forecast Favorites: by Paul McKimmy (published in the June 1999 newsletter)
We've all been there planned a windsurfing session, packed the gear, drove the distance, and gotten skunked by a disappointing wind. Knowing where and when the wind is going to blow is a constant game. Maximizing water time and minimizing driving time depends on good information. A weather-band radio that gives constant forecasts from NOAA (National Oceanic and Atmospheric Administration) is a staple for staying in tune with wind forecasts. NOAA is definitely not the end-all source of weather information, however. If you haven't tried these sources of info, I highly recommend them: Brownsville WINDcast is a product of Weather Services International. This free site provides color-coded maps of Texas predicting wind velocity and direction for today and tomorrow's morning and afternoon wind. wunderground.com Weather Underground provides a good weather summary for today and tomorrow. It also gives a current observation of wind speed. I use this as my Internet browser's homepage, so every time I turn on the computer I get a synopsis. To do this, edit the preferences in your browser (Netscape or MS Explorer). You can replace the last five digits with your own zip code if you're not in Corpus Christi. noaa.gov This is the National Weather Service (part of NOAA) site for Corpus Christi in case you don't have your weather radio handy. Follow the link to Marine Weather and choose whichever coastal forecast you want.Nothing beats knowing before going. When you want to double check your favorite launch before driving off, call WindInfo at 992-WIND (9463). The Blucher Institute at Texas A&M - Corpus Christi maintains this setup which provides up-to-the-minute (well, 6 minute intervals) wind speed and water temperature at Naval Air Station - Corpus Christi, Bird Island Basin, Ingleside, and Port Aransas. This is a real treat, especially since it's free. Some other windsurfing hotspots have a pay-per-call format. More information on WindInfo is available at windinfo If you're a continual email user like I am, you'll also want to get on Worldwinds' mailing list. Send email to worldwinds@juno.com and request to receive their weekend forecasts--they're pretty accurate. Finally, for those wave sailors out there a new Internet site, surfcorpus.com , will be of interest. Not only does it provide a recent photo of the surf at Bob Hall Pier, but a live web-cam view straight down Whitecap Blvd. to the waves. In the future, this camera may be mounted right on the pier for a better view. Check it out before you drive out. Surfcorpus.com also provides links for wind and wave forecasts.
Newsletter Ed's Note: WorldWinds' forecast is based on AccuWeather's data at: accuweather.com Their premium service ($4 a month subscription) includes the hour by hour forecast.