Commodore's Notes: Thanks for the Help by Chester Hulme
Here it is one week after the U. S. Cellular U. S. Open ( say that 50 times real fast!) and Iím wondering was it all worth it. The answer in my mind is a resounding YES!! From my view, I couldnít see how it could have been a better experience, and that is what I as a club officer hope that everyone walks away from the event feeling . While the wind could have been better (weíll work on that for next year), the participation of our volunteers was lifted to a new level this year. I donít have room to list all of the people who pitched in and helped, but there are a few that I have to mention because every time I turned I saw them or in Karl Schulerís case never saw him because he was on the boats. Don Gentry certainly needs to be recognized for all of his hard work., Dawn Allen makes a wonderful assistant at parties, Arlene Ward rolls some mean napkins and forks, Hal Hamilton is now our official bean cooker, all of you who helped serve and carve at the BBQ were great, and my wife Pam. Thanks to the crew of Sea Scouts Ship One. Surely we canít forget Mark Selif for providing the ďliveĒ music. Wasnít that great!
I would like to give a special thanks to Elaine and Gary Motl. Without them and the group at E.M. MARKETING there would be no event. Thank them when you see them and let them know you will be there next year to volunteer your assistance.
Now that our event schedule is down to its normal hectic pace, I hope to see each and every one at the upcoming events for the rest of the year. Level of participation is going to be one of the criteria for scheduling events next year, so pack your favorite event.
On other club business, I will be contacting Greg Perkes in the near future to start the process of incorporating the club. This is a priority! We also need to contact a CPA to assist. Does anyone know an interested CPA? Also at the next club meeting I would like to form a subcommittee that deals with sailing access. We need to identify needs such as new amenities at existing sites and possible new sites and make contact with appropriate people to get the ball rolling. This will need club members to participate!!!!
See you on the water. -- Chester

Mark Roundings.....í00 Whataburger IV
Saturday morning arrived muggy and windless; by 10 AM it was not beyond 5 mph following dawnís Spot-a-Pot tipping winds and intense thunder showers. At Oleander you could clearly see the structures on the opposite shore and the water was only slightly rippled by the mostly missing NE wind. Thirteen registrants, on the 13th of the month- it was enough negativity to overcome the Whataburgerís prior good luck this year. Breezes reached promising by the time of the Skippersí meeting but died throughout the first heat which was called off after most of the fleet had either given it up or had yet to finish an hour beyond the start. A few unidentified sailors got caught far downwind as the start sequence began and in the dwindling winds crossed the start line so late that they would have been declared Ďover earlyí for the second heat if one were held. After Dave Cothran crossed the finish line (5th place) race director, Skip Johnson, called it off with more than half of the fleet either still trying to get past the upwind mark or having already given up the hunt. Craig Greenslit, Jon J. Ernst, Guy Racette, and Guy Miller in that order were already on shore eating their lunch when the first heat was officially terminated. Doc Allen showed up with his new wide Bassett board proclaiming his newly formulated disdain for long boards.... you might want to rethink that decision Doc. With the wind now well below the minimum, the buoys were retrieved, the flags and Whataburger banners taken down, and everyone packed up hoping Whataburger V gets a better break from the wind. Edís Note: Whataburger IV has been rescheduled.


2000 WHATABURGER RACE SERIES RESULTS
Race #4, June 11 (Rescheduled)
Open Fleet
Name
Craig Greenslit
John J Ernst
Guy Miller
Michael Johnson
David Cothran
Jon Bright
Nick Antrobus
Olivier Jallais
Nancy McClain
Sail #
WY-5
US-1166
TX-1
CC-17
TXT
CC-4
K-111
US-07

Heat 1
0.7 dis
5-dis
2
6-dis
4
3
7-dis
10-dis
8

Heat 2
0.7 dis
2-dis
3-dis
4
6-dis
5
7-dis
10-dis
10-dis
Heat 3
0.7
2
3
4
6-dis
5
7
10
10-dis
Heat 4
0.7
2
3
6
4
5
7
10
10
Heat 5
0.7
2
3
4
5
10-dis
6
10
10
Heat 6
0.7
2
3
10-dis
4
10-dis
5
10
10
Heat 7
0.7
2
4-dis
5
6
10
7
3
10
Tot. Pts
3.5
10
14
23
23
28
32
43
48
Pos.
1
2
3
4
5
6
7
8
9
Div.
O
O
M
GM
M
O
GM
O
W
Notes:
1) "dis" means discard.
2) Did Not Start scored 10
OPEN
1 Craig Greenslit
2 J Jay Ernst
3 Jon Bright
MASTERS
1 Guy Miller
2 David Cothran
GRAND MASTERS
1 Michael Johnson
2 Nick Antrobus
WOMEN
1 Nancy McClain
2000 WHATABURGER RACE SERIES RESULTS
Race #6, June 10
Open Fleet
Name
Guy Miller
John J Ernst
Craig Greenslit
Olivier Jallais
Christian Auger
Michael Johnson
David Cothran
Jay Hutchins
Nick Antrobus
Jon Bright
Sail #
TX-1
US-1166
WY-5
US-07
F-11
CC-17
TXT
Bib 25
K-111
CC-4

Heat 1
3
0.7
2
6
4
5
7
8
9
11

Heat 2
2
5
4
0.7
3
6
7
8
11
11
Total Pts
5
5.7
6
6.7
7
11
14
16
20
22
Position
1
2
3
4
5
6
7
8
9
10
Division
M
O
O
O
M
GM
M
GM
GM
O
Notes:
1) "dis" means discard.
2) Did Not Start /Finish scored 11
OPEN
1 J Jay Ernst
2 Craig Greenslit
3 Olivier Jallais

MASTERS
1 Guy Miller
2 Christian Auger
3 David Cothran
GRAND MASTERS
1 Michael Johnson
2 Jay Hutchins
3 Nick Antrobus
2000 WHATABURGER RACE SERIES RESULTS
Overall Results
Name
Craig Greenslit
J Jay Ernst
Guy Miller
Guy Racette
Olivier Jallais
Zing
Nick Antrobus
David Cothran
Jay Hutchins
Jennifer Racette
John Bright
Sail #
WY-5
US-1166
TX-1
CC-111
US-071
U-097
K-111
US-TXT
H
CC-111
CC-4

Div.
o
o
m
m
o
m
gm
m
gm
w
o

Race #1
0.7-dis
2-dis
29-dis
4
3
6
10-dis
13-dis
11
14
9
Race #2
0.7
0.7
3
2
5-dis
7
10
11
8
9
29-dis
Race #3
0.7
2-dis
4-dis
2
3
5
7
29-dis
8
6
29-dis
Race #4
0.7
2
3
29-dis
8-dis
29-dis
7
5
29-dis
29-dis
6
Race #5
0.7
2
3
4
5
7
13-dis
11
29-dis
10
16
Race #6
3-dis
2
0.7
29-dis
4
29-dis
9
7
8
29-dis
10
Total
2.8
6.7
9.7
12
15
25
33
34
35
39
41
Final
1
2
3
4
5
6
7
8
9
10
11
Overall Results of Competitors Who Did Not Complete the 4 Races Required to Qualify
Name
Michael Johnson
Christian Auger
Philip Keyserlingk
Kyle Krebs
Barry Ritchie
Trey England
David Corpus
Darron Rolls
Jan Hoogland
Skip Johnson
Nancy McClain
Susan Drehlich
Kurt Von Rueden
Charles Allen
Pablo Arce
Chris Marsh
Chester Hulme
Sail#
CC-17


US-459
NM-0



VH
US-660


US-430



CC-8

Div.
gm
m
m
o
m
m
m
o
gm
o
w
w
m
gm
o
m
m

Race #1
29-dis
29-dis
7
15
29-dis
29-dis
29-dis
29-dis
5
8
29-dis
29-dis
12
29-dis
16
17
18
Race #2
29-dis
6
12
15
4
14
13
16
29-dis
29-dis
29-dis
29-dis
29-dis
29-dis
29-dis
29-dis
29-dis
Race #3
29
29-dis
29-dis
29-dis
29-dis
9
29-dis
11
29-dis
29-dis
29
10
29-dis
29
29-dis
29-dis
29-dis
Race #4
4
29
29-dis
29-dis
29
29-dis
29
29-dis
29
29
9
29
29
29
29
29
29
Race #5
9
10
15
6
8
27
12
29
29
29
29
29
29
14
29
29
29
Race #6
6
5
29
29
29
29
29
29
29
29
29
29
29
29
29
29
29
Total
48
50
63
65
70
79
83
85
92
95
96
97
99
101
103
104
105
Final
12
13
14
15
16
17
18
19
20
21
22
23
24
25
26
27
28
OPEN
1 Craig Greenslit
2 J Jay Ernst
3 Olivier Jallais
4 Jon Bright
MASTERS
1 Guy Miller
2 Guy Racette
3 Zing
4 David Cothran
GRAND MASTERS
1 Nick Antrobus
2 Jay Hutchins

WOMEN
1 Jennifer Racette

Notes:
1 Race Directors score their best result for the race they direct
(provided they do not race)

Race 2 Craig Greenslit
Race 3 Guy Racette

2 Did Not Start score 29
iwindsurf.com
Coming our way.... but not too soon by Roy Tansill
Over a decade ago I got involved with a new computerized wind reporting service called ĎWind Hotlineí and subsequently got to meet Phil Atkinson its founder. That newly begun service now covers numerous launch sites from Hatteras to Cape Cod and beyond. Meanwhile, on the West Coast, Jim Martinís ĎCall of the Windí was informing wind hungry boardheads where they could find their wind fix from the Gorge down to San Francisco. As reported in the most recent issue of Windsurfing Magazine, these two wind reporting/prognosticating pioneers have combined their efforts and are in the process of building a nation wide wind service. The new service is FREE! A recent e-mail from Phil states that they will be covering Texas in about two years and I think we could speed up that process if the CCWA will lend Jim and Phil our support. If youíve been muttering about the quality of wind reporting/prediction we have available to us presently and think one more source of misinformation isnít worthy of your assistance, consider this fact: The US Military has contracted with iWindsurf.com because they were more dependable and accurate than the Fedís vast reporting system. Sensor sites will be crucial, and that is one area where we can help.
Check out the new web site and then do a little daydreaming about how convenient it would be to know exactly what its blowing at every launch in our area plus a reliable prediction for what itíll be an hour from now when youíll be rigging- sounds like a far better process for more efficient usage of sick leave, comp time or whatever you use to get away from work and on a board doesnít it? Currents will keep you informed of progress with this service and Iíll be seeking some help for Jim and Phil as well.
Editor's Puffs: by Roy Tansill
Due to time constraints, I decided to put off full coverage of the US Cellular US Open until next month when Iíll have had time to look over more photos and get ĎThe Officialí results. Allowing for the value of words versus a picture (I think the accepted ratio is about 1,000 to 1) this one photo, taken during the first race on Friday 05/26 pretty well sums up the results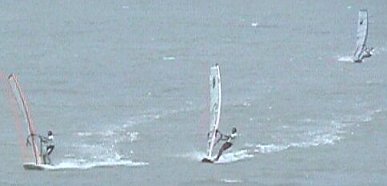 of the Pro Men Fleet. Thatís Kevin Pritchard leading Micha Buzainis and Phil McGain to the inside Mark. Thatís the way they finished in both their class and, if you flip flop Phil and Michaís position, the Winduro as well.
Donít be alarmed if you see either Chester or Pam driving my old green Jeep Cherokee around town- its not mine anymore. Bowing to peer pressure of all the LagunaTicks at Grassy Point, Chester purchased the Jeep so he wouldnít have to park his RV and his trailer (thereby consuming about 50% of the available parking space) when he sails at Grassy. Donít tell Pam about this- she thinks Chester bought it for her. I replaced the Jeep with a screaming red Chrysler PT Cruiser and havenít stopped smiling since. That diminutive mini-van is just large enough to carry a 283 wide style board inside along with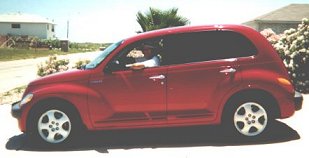 a 490 two piece mast and still get the back door closed. Iíve been having so much fun driving the attention getting vehicle that I have been sailing only a few times since I got it. That, plus the fact that itís trailer hitch is still on order, have pretty much kept me off the water since the Open. Mrs. Tansill has forbidden me from putting a roof rack on the gleaming new car (and sheís rather strict about sand inside of it too) so Iím beached until the trailer hitch arrives I guess. This also means Iím going to have to keep my new full time job for another three years (at least) so I can pay for the new wheels; and that means Iíll really need your input and articles to fill up these pages each month.
Good Deal on an Ideal PFD by Sue Simmons
(extracted from rec.windsurfing news group)
There is a coast guard approved type III PFD available as a small 'fanny pack'. It's designed to wear the pack around your waist with the pack in front, although it can be slipped around to your backside till needed.
It has a CO2 inflation cartridge or you can blow it up by mouth. Obviously, it is not intended for non-swimmers. We just got some on sale for $40 each (usually much higher). Made by Stearns. You could attach it to the front of your boom like a boom bra if you detest wearing a PFD but are required to have one 'on board' by regulations in your area. We got ours from Sailnet on sale for $39.95 part # BD 364.
email: , jsi@sailnet.com> or URL: http://www.sailnet.com or: 800-234-3220 (local in St Pete, Fl area 727-577-3220) Susan in CT.
Road Trip by CCWA member Don Cryer
After 2 months and one of the best windsurfing seasons ever (it was windy and sailable almost every day...), Renee and I left Corpus Christi in early May, heading for Arizona.
We went 300 miles out of our way to go to Big Bend National Park. The Park area with the Chisos Mountains was nice but nothing special for us (it is hard to impress Renee and I after all we have seen and traveled). The Rio Grande was anything but and needs a name change to Rio Poco creek. However, 2 canyons (at the opposite ends of the park) and the humongous escarpment on the Mexican side of river were special. Both Santa Elena Canyon and Boquillas Canyon were formed by the river carving its way through the rising escarpment over the years forming very narrow and sheer canyon walls over a 1500', similar to Zion but more impressive! The short hikes up each canyon were inspiring! However, the drives to and in and from the Park through the Chihuahuan Desert (one of the four North American deserts..) were not, and more like driving through a vast waste land, and with temps over 100 and with the RV overheating; we were less than happy campers. We did take the back way out of Big Bend, following the river upstream to Presidio; this route along the river and through some canyons was in ways more interesting than the Park. All told, the sojourn was not worth it, especially this time of year with the heat. In January, the place may have more appeal, especially when compared to other continental US outdoor options.
On the other hand, our next side trip of 200 miles off course to Carlsbad Caverns in New Mexico was memorable. The vastness of the rooms and the many types, sizes and quantities of formations were magnificent. Even though we have been to many caves, Carlsbad now is near the top, if not the grandest cave we have been to. The evening exodus of thousands of Mexican Fruit bats (soon to be millions, when the rest of the migrating female colony arrives) from the cave entrance was a fitting end to a great day! [The number 1 industry in New Mexico for almost 25 years was the "mining" and export of bat guano fertilizer - 100,000 tons were mined out of Carlsbad!]
With head winds over 30, our trip to Benson was tortuously slow and hot and over more ugly wasteland, especially when we had to turn the A/C off to prevent overheating climbing hills. Towing a dingy stinks!
On 5/17, we went to Kartchner Caverns in Benson. This remarkable live limestone cave with a great variety of virgin pristine speleothems was discovered in 1974 by 2 young cavers and kept secret for 14 years until it was finally purchased and preserved by the State. It was just open to the public in late 1999. Only 2 rooms are currently open to the public, but each are fairly large (100 yards long) with one (the Throne Room) been well decorated with formations and a massive 58' column (Kubla Kahn). The cave has a vast array of Soda Straws, one over 21' [x 1/4"!!] (the second longest in the world), though the longest one visible to the public is 12'. There were good representations from the very bizarre and gravity-defying helictites which still stump full scientific comprehension. The bacon ribbons were exceptional especially in their colorings. However, Kartchner is no Carlsbad in viewable area (probably 1/20th) or, size, number and variety of formations, though Kartchner is mostly alive (wet and growing) whereas Carlsbad is 95% dry/dead. Kartchner setup and tours are really hokey and run like a overly strict amusement park with the narrative very, very lowbrow and juvenile (they use a tram to take each strictly controlled tour group a 100 yards from the exhibit building to the cave entrance!) They move you too fast through the cave so one can't spend anytime looking around and when they do stop, they babble meaningless trivial, mostly warnings, chiding and don'ts. If we walked at our own pace, the actual cave tour probably would have only been 10 minutes! (Carlsbad takes at least 2 hours to walk, not including the special 1 hour guided tours to limited access areas...) Finally, the price is absurd - $52 for 3. Maybe in a few years when more cave areas are open and they run the place like a natural wonder it is, one might reconsider. For now, Carlsbad has no competition....
Next week we are off to northern Arizona and strict camping from here on out. We are contemplating possibly going up through California to the NW or following the Rockies straight North - even staying out here all summer. The absence of mosquitoes has such appeal!
to be continued....
South Padre Island Blowout 2000 May 6-7
Race Results SLALOM
Menís A
1st Craig Greenslit Corpus Christi, TX
2nd Guy Racette Corpus Christi, TX
3rd Guy Miller Austin, Texas
Menís B
1st Phil Keyserlingk Corpus Christi, TX
2nd Ken Gunter Waco, Texas
3rd David Cothran Houston, TX
Menís C
1st Reagan Ramsower Waco, TX
2nd Mike McCormack Durango Colorado
3rd Gerald Silva San Antonio, TX
Womenís B
1st Nancy McClain Corpus Christi, TX
2nd Theresa Swirenko Corpus Christi, TX
3rd Pamela Hulme Corpus Christi, TX
Masters
1st Boyd Bass Bellevue CO
2nd Michael Johnson Corpus Christi, TX
3rd Rick Ekstrom Port Isabel, TX
Grand Masters
1st Larry Blackburn Ketchum, Idaho
2nd Joe Crosson Ketchum, Idaho
3rd Mike McKinney Brownsville, TX
Techno Menís
1st Skip Johnson Portland, Texas
2nd Jon Jay Ernst League City, TX
3rd Ian Yanagisawa Houston, TX
Techno Women
1st Jennifer Racette Corpus Christi, TX
2nd Blanche Dean San Antonio, TX
3rd Susan Drelich Houston, TX
Techno Masters
1st Cliff Tudor Sweetwater, TX
2nd Ken Merten Dallas, TX
3rd Joe Marotti Houston, TX
LONG DISTANCE
Menís A
1st Craig Greenslit Corpus Christi, TX
2nd Guy Miller Austin, TX
3rd Guy Racette Corpus Christi, TX
Menís B
1st Ken Gunter Waco, TX
2nd Phil Keyserlingk Corpus Christi, TX
3rd David Cothran Houston, TX
Womenís A
1st Tony Lenthold Winter Park, CO
2nd Marion Melrose S. Padre Island, TX
Masters
1st Michael Johnson Corpus Christi, TX
2nd Lloyd Lockridge Winter Park, CO
3rd Robert Letheman S. Padre Island, TX
Grand Masters
1st Larry Blackburn Ketchum, Idaho
2nd Joe Crosson Ketchum Idaho
3rd Richard Wright Illinois
Techno Menís
1st Jon Jay Ernst League City, TX
2nd Skip Johnson Portland, TX
3rd Ian Anagisawa Houston, TX
Techno Women
1st Jennifer Racette Corpus Christi, TX
2nd Susan Drelich Houston, TX
3rd Blanch Dean San Antonio, TX
Techno Masters
1st Ken Merten Dallas, TX
2nd Cliff Tudor Sweetwater, TX
3rd Joe Morotti Houston, TX


---
Mark your calendar for: July 15th
A major fun event: Bird Island to the Causway Downwinder
All are Welcome. Call Dick Ward at (361) 949-0232.
This is one event everyone can enjoy and no one should miss. Open to all levels of sailors; but it's 12 miles and you'll probably need to be able to use a harness to cover that distance. Dick is also looking for someone to volunteer the use of their boat for chase boat duty--if you can help in that regard, give him a call.
If there is one event you donít want to miss, this is it!