Commodore's Notes: What's in a Name!
It's been a great month of sailing in Corpus Christi. There have been a few weeks where I got in a session every day. There have been plenty of out-of-towners on the water and the launches have been packed. We've just finished the first Whataburger Weekend with events at Cole Park and Bird Island on successive days. The bayside event included our kite flying cousins. With winds in the 30 to 40mph range all weekend, the club was able to sponsor a couple of great days of sailing and flying. That brings me to the real news. The club has made some moves to include kitesurfers in the group. Peter Nordby is back on board as our Kite Events Director. Our newest member is Jeff Howard. Jeff brings his years of experience in flying and designing kites to the club and is now our Kite Events Safety Director. Another new member, an avid windsurfer turned kitesurfer, Rob Gordon, has joined the club. His role is going to be that of mediator. It will be his responsibility to work to make the waters a friendlier place for all of us. So we've added some new faces and some old friends! Now for the exciting part. At the last meeting it was agreed by all that the club should make the move to formally include Kitesurfing. We are going to amend the charter to make the Corpus Christi Windsurfing Association a multisport organization. I tried to get my favorite new name for the organization passed but others wanted to take a moment to consider the name and banner under which we will all play. I guess we're going to have a contest of some sort to see what name appeals to us. Generally, we agreed that we should try to stick with the CCWA initials for this new inclusive Windsurfing and Kiteboarding organization. We hope that with the addition of the kiters we will have more participation in the club events. It is our goal to use this new alliance to help us in our quest to protect our most vital interests; safer launch sites, better facilities, preservation of our access, and a louder voice within the community. Chip Biery

Whatís In A Name? (part 2) Corpus Christi Sailboard Association?
In 1982 Bob and Vicki Harraghy formed an organization to promote our sport in Corpus Christi. The fledgling group was then a part of the US Boardsailing Association and was known as Fleet 6. Three years later it became independent and was renamed The Corpus Christi Sailboarding Association. After the patent on the original Windsurfer ran out, the club again changed its name to become the Corpus Christi Windsurfing Association. At that same time the Wind Rider Magazine became Windsurfing Magazine and the national sanctioning body, the US Boardsailing Association, became the US Windsurfing Association. Times change.... and so do names.
At the April meeting it was suggested we come up with ideas for a new name for the CCWA, one that would reflect the recent inclusion of kite sailing. Follow-up suggestions added that it would be convenient if the name could change but the acronym remain CCWA and even that the new name become a contest with the winner selected and rewarded at the final meeting of the year.
A name can convey a lot and we can envision a person just by hearing their name having never even seen them (i.e. donít we all know Bubba?). A name can also unite a group of like minded strangers into a group of friends. With those thoughts in mind, and accepting a reality that kiting isnít sailing in the mind of most folks, I think that perhaps changing a name can change some minds as well. It seems to me that as long as kiting is not sailing in the minds of both camps, we are predisposed to an Ďus and themí relationship. This can be most traumatic to those of us who do both. I think a name that works on that dichotomy would make changing the name worthwhile. I donít agree its necessary to maintain the CCWA acronym, in fact Iíd like to see that change since, in this age of the internet, we are often confused with the Cape Cod club which also calls itself CCWA.
Maybe its time to go back to the CCWA roots. No I donít mean to rename the club to Fleet 6 again but CCSA has a nice Southerly ring and just maybe if we are all being pushed along by the wind we are in fact sailing. Corpus Christi Sailing Association opens the doors wide, even beyond sailboards and kiteboards, with the common ground being we all enjoy riding across the water being powered by only the wind. I like the idea of calling ourselves a sailing association. As usual, thatís just my opinion Roy Tansill

Editor's Puffs: by Roy Tansill
The horse is back in front of the cart
For a few days in early April it looked as if there would be no kites involved in the Whataburger series as earlier planned. The problem involved insurance, the lack of which jeopardized the CCWAís leadership and failed to meet the requirements established by the city for the use of Oleander Point. Thanks to Chip Biery, the insurance problems have been rectified. He invested an entire day to phoning all over the country tracking down what had been rumored to exist but had not been produced. Like the kites the insurance covers, it comes with some strings. There are now two new Executive Committee positions: a kiting events director and a kiting event safety officer- both are part of the strings. In order for the $2,000,000 liability insurance to be in effect, all kite flying contestants are required to be members of the American Kite Association (AKA) and only AKA members may kite at the event site during the event (a few more strings).
While Commodore Chip was busy dealing with kite insurance, Phil Keyserlingk was equally busy finalizing the paperwork to gain incorporation for the club to protect those who are on the executive committee. The original charter for the Corpus Christi Sailboarding Association called for such status and after 19 years of putting it off, Phil has us well on the way to completing it.
Neither of those two tasks were enjoyable and both Chip Biery and Phillip are owed a major thank you from all of the members. In the long run, Philís effort may well pave the way for the club to exist on a budget considerably reduced from the present levels and make it safe for folks to serve on the executive committee without the fear of liability suits for doing so. Between the two of them, they have taken care of the situation that would have forced me to end my role as newsletter editor and Arleen Ward to drop her task as the Secretary/Treasurer. Thatís all history now thanks primarily to Chip B. and Phil.

Bombed Boater Bangs Board at Bird (sailor not injured)
Thursday, April 19th at Bird Island Basin, the inevitable occurred- a boater collided with a windsurfer. CCWA member Don Cryer was hit by the boat which did not return to the scene but was apprehended after it pulled into the Parkís boat launch. The power boatís skipper was arrested for operating a watercraft while intoxicated by the Park Rangers. While Don was not injured, his Roberts board was shortened by a few feet and he was considerably upset by the events. Another nearby powerboat immediately responded to help Don, its not clear if this craft was initially with the offending craft. Both power boats were at full throttle and so was Don (Don has only one speed- fast). The collision site was inside the spoil islands off of the point just South of Worldwinds. The boater was clearly at fault. It will be interesting to see what changes the collision will generate at Bird. Last Fall the local Parks & Wildlife commander, Don Parker, conceded he was aware of the safety problem but he was short handed at that time. He promised to look into the situation this Spring. Likewise the Park Service folks were well aware of the potentially deadly situation. Both agencies share some blame along with the drunken boater. Hopefully something will now be done before someone gets seriously injured. It may require an enforced Ďno wake zoneí to correct the present situation but occasional patrols by Parks & Wildlife would also be most helpful in slowing the throttle jockeys as a more immediate measure. Meanwhile report boat numbers to NPS if you see dangerous operation of power boats at Bird.

Sightings by Chip Biery
Finally, a big wave day at Port A. We have been waiting all season for a day like this one. Those of us that routinely sail the surf that the northerlies bring know that the last real cold front of the season arrives on or about Tax Day, April 14. The wind and wave gods conspired to bring us plenty of both. The surf on the inside was breaking in shoulder high sets and outside the swell was even bigger. How big? Well those of you that know Dave Musgrove realize that he's about 6' tall. Upon returning to the beach with a broken board and tweaked fin, he remarked that it was 'big'. What a day we had. The lucky sailors included Phil K, Dave M, Chuck, Phillipe, Zack, Olivier, Louis, Jason, myself, and others. I took some time out to rate the efforts of the sailors. Olivier had the best style in down-the-line wave riding getting as many as 8 bottom turns to each wave. Zack Gunning was outstanding in his transitions and power moves. Both Olivier and Zack were launching loops
Riding kites were Rob Gordon, Jeff H., Jeff C., John Goode, John Cole, and Todd from Victoria. The kites that they flew ranged from 5's to 7's. According to those acrobatic flyers, 'the swell was killer and the ramps made for huge air'. I watched Jeff Howard make one jump that left the beachcombers speechless. He flew so high and so far, it was really inspiring. It was a day for the adventurous. We put on a good show and entertained the beach walkers as we made quite a sight out in the surf.

Go Fly A Kite Who says you can't go home again? by Peter Nordby
The last few weeks have been a "homecoming" for me as I've re-joined our Club. As many of you know, I'd drifted away. I no longer windsurf at all. Kiteboarding is taking up all my time. I kited over 275 days last year alone. I've now joined the Club again, as it moves towards a "windsports" umbrella organization under Chip Biery's leadership.
I would like to publicly recognize and thank those of you who have reached out to me and the kiteboarding community and brought us "back home" where we belong. You have all made me feel welcomed back and truly blessed to have such great friends in the wind-powered sports community.
I particularly want to thank Chip B and Chip D for taking the initiative to invite the kiters to join the Club; and Philip and Craig for all their hard work on incorporation/nonprofit status and the Whataburger events, to enable us to include kiting in the four Whataburgers held at Oleander point. I also want to thank Roy for helping us be proactive in resolving the liability and insurance issues that kiteboarding brings to our events. It was great to see everyone pulling together, resolve the tough issues, and be able to move forward together as a stronger and more united organization. Thank you all!
I also want to say that the general membership has been very supporting of me personally. I really appreciate it! That goes for a lot of you, but nobody personifies this better that Marilyn. She took the time to go out of her way to welcome the kiters to our event at Chip and Diane's house. Thanks Marilyn!
Before this gets way too sappy, let me just say that we'll have a lot of fun together this year, both on and off the water. If the parties at Chip and Diane's house are any indication, the future looks better than ever!

Whataburger #II, With a side order of Kites by Rob Gordon
Kitesurfing literally took off as a part of the Whataburger events on April 21, 2001, at Oleander Point. The wind was howling with gusts up around forty miles per hour. When I arrived at Cole Park, the slalom races were going off at insane speeds. The abundance of excellent racers missing jibes led me to think that kiting might turn out to be a handful in the nuclear conditions.
Already at Cole Park before me, Pete Nordby and Ben Morgan from Dallas filled me in on the details of the contest. Pete would stay on the beach and make sure the event played out safely while Ben, Jeff and I went for it with all we had. After we had finished, Pete would go out and do a little free-style for himself. As we waited to kitesurf, the French guys from Houston, Mark, Alex, Gui, and Xavier, showed up ready to rip. These guys are such incredible sailors that Pete and I asked them to put on a little impromptu windsurfing free-style demonstration. The guys didnít hesitate at all and gave one hundred percent. They were throwing forwards on almost every run. Fast tacks, helicopters, Vulcans, and jump-jibes were being thrown left and right.
The kiters were scheduled to run during the racersí break, but right as we began to rig, a police officer started writing tickets to everyone parked on the grass. After the scramble to move our cars, Jeff Howard rigged up first in the kite area downwind of the windsurfers. He took out a seven square meter projected area kite. He was being pulled up out of the water in the gusts, but he still tried one run out into the real wind. Right before jibing, Jeff loaded up for one huge jump easily thirty feet high and twice as long. He came in immediately afterwards to switch to a smaller kite.
Seeing the amazing power in Jeffís kite, I rigged one size smaller than he had. I started out timidly to make sure I didnít get blown off the water. When I got comfortable I had good power in the gusts. As I was settling in, Jeff came out on a smaller kite and joined me. For the next hour Jeff and I went back and forth on a line out from the cement jetty throwing huge moves. Ben ended up having some kite trouble which would put him out of the competition, so it really came down to just me and Jeff. Jeff was tweaking some really big moves with spins and table-tops. I tried to counter with some board grabs and multiple spins. Jeff was more consistent and smooth with longer air time, but I did manage to land a couple of 720ís and 1080ís to keep him from absolutely running away with the ďcontest.Ē As the races resumed, the wind died down a little and Jeff and I came back in to shore thoroughly exhausted.
In the end, no one had really been judging, so Jeff and I decided that he had won the pro division and I had won the amateur. It was the first Whataburger kite event, and more than anything we were just hoping to have fun and be safe. Kiting was pretty crazy in those conditions, but the high gusts made for some awesome jumps and spectacular crashes. If the next few events play out as well as this one with more kiters, we are in for some great fun.

New Wind Sensors Up & Running
As promised, the new iwindsurf.com wind info system is providing free timely wind data covering most of the stateís launches. The Laguna Shores sensor is located at Wally Allenís marina on Laguna Shores Road. Wind speed, direction, gusts, lulls, and average speed data are all shown both in text and graphics. The basic service is free while higher options (wind pager, localized site specific forecasts, and more) are available for a monthly fee. There is also a sensor atop Guy & Jennifer Racetteís Ocean Drive home reporting conditions for Ropes and Oleander.

DATELINE, CORPUS CHRISTI:
Dah-dit-dit, Dit-Dit-Dah, etc. Strong winds greeted competitors in the second regatta of this Summer's Whataburger Windsurfing Series, held at Oleander Point, South Cole Park on Saturday, April 21. The winds continued to build throughout the day, challenging veterans and newcomers alike with gusts nearing 40 miles-per-hour and some of the biggest swells we've seen in Corpus Christi Bay.
A Figure-8 Slalom course was set off the beach, and competition got started at 2:00 P.M. The course took sailors out into Corpus Christi Bay to a buoy about a mile offshore, where racers turned and headed back toward shore to complete a lap. Eight heats of 1, 2 and 3 laps were completed in all, making for an exhausting day of competition. Once again, Corpus Christi served up conditions that windsurfers across America have come to regard as some of the best around.
Regatta number three of the Whataburger Windsurfing Series took place at Bird Island Basin, at the Padre Island National Seashore on Sunday, April 22. Once more, Mother Nature challenged racers to winds nudging into the 40-mile-per-hour range, making for some of the fastest speeds in recent memory.
Once again, Race Director Craig Greenslit set up a Figure-8 course and held eight flawless heats before racers were finally allowed to recover from two successful days of intense racing. The fourth regatta of the Whataburger Windsurfing Series is scheduled Saturday, May 19 at Oleander. Guy Racette
Whataburger Results
Whataburger II
1st Guy Racette
2nd John J Ernst
3rd Christian Auger
Whataburger III
1st John J Ernst
2nd Guy Racette
3rd Olivier Jallais
Whataburger IV
Coming May 19th
at Oleander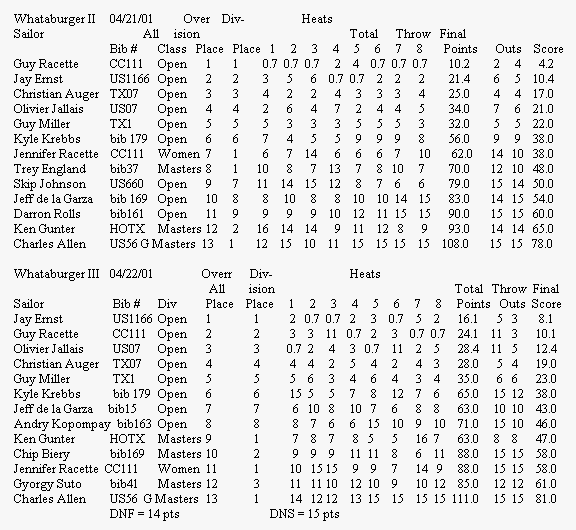 Photos courtesy of Michelle Weedon

Left: Darron Rolls, Christian Auger, Olivier Jallais, and Skip Johnson nail the start of the 2nd Heat. Below: Half way through the heat and Guy Racetteís lead is negated by John J Ernst

Above: Olivier Jallias sailing the Bayís washing machine with the skill that made him the top dog at the 2000 Canadian Nationals
Above: Skip Johnson (US 660), riding only a fin in pursuit of both Guy (CC-111) and John J Ernst (US1186). Guy took the first place honors on Saturday in Whataburger II but John J reversed the order of the top two spots at Whataburger III on Sunday.
Right: Jennifer Racette once again found herself the lone entrant in the women's fleet. She finished at 8 heats on Saturday never worse than 10th- something few of her male competitors could do.