Commodore's Notes: The Etiquette of Cole Parking (or how to keep things Rosey)
by Commode Chip Biery
For years, sailing has been popular at Cole Park/ Oleander. On good days, the parking lot is overflowing, people are parked parallel along Ocean drive. The overflow soon spills over to Ropes. Lately; a parking spot has become a treasure. During The Open, all the parks, from one end of Ocean Drive to the other, had many sailors and kiters looking for a space. The Open was the spectacle that we had hoped for. More people are coming to watch the event. We took the kids from the neighborhood and had a great day. We also had to park behind the church and carry our stuff down to the event sight. But that was an incredible situation. It was inspiring to see whole families coming to the bluff to sit and watch the event. With the addition of the kiters, the parade of watersports along Ocean Drive is once again drawing large numbers of spectators. However, from that success arises the Etiquette of Cole Parking. Simply put; let me remind you to park only in the marked spaces. In addition, please keep you gear from sprawling out onto the bike path. That new path is becoming an attraction in itself as more bikers, skaters, and runners are passing through the sailing parks. Visitors to our bay are making a stop at Oleander their first destination. We want the tourists to see a pleasant spectacle. Most visitors to the parks leave with a desire to try their hand at kiting or sailing.
Recently a club member tested the issue of parking on the grass. He was in the act of being ticketed for having his wheels on the curb. Others have received tickets during peak days, when they parked on the grass. Simply put…..Don't park on the grass. You will get a ticket! That means no trailer tires over the curb, no rubber in contact with plant matter. Lastly, should you be asked to move a wheel off the grass and back onto the road-bed, refrain from making any kind of salute to the Parking Gods who sent the Parking police to accost you. Perhaps you heard the amusing anecdote about "The Gesture". Okay, I know it was a salute.
The city is getting more funds to improve the parks. Those funds are being spent to make the parks a real tourist draw. With the additions of the picnic spots, palm trees, and bike paths, the parks are becoming a favorite place to look out onto the bay. Let's remember that we have to share it. Chip

Editor's Puffs: by Roy Tansill
Summer is here and its getting very hot in more ways than just on the thermometer. The long-term problems with one member of the Ocean Drive landed gentry seem to be getting serious. Money talks and the antagonist in this case has a rather loud voice. Of course the windsurfing community is not composed of paupers either and we certainly outnumber the individual that is trying to get windsurfing banned at Oleander. In a recent skirmish it seems one of us was reported for 'gesturing' towards the balcony from which the Ocean Drive homeowner was intently watching. The gesturer was receiving a parking ticket when he saluted towards the infamous 2nd story balcony across Ocean Drive. The elderly women is certainly a pain in the neck but her efforts should not provoke any of us to respond like NBA players to the escalating harassment. Cole Park is not her front yard. It is a city park, to be used for recreation. By responding to her, we give her more ammo to complain. I'm not suggesting we ignore the threat to the launch at Oleander, but do suggest we find more effective actions to cool the situation down.
At the geographic opposite end of our local launch sites there is also trouble brewing. Following the collision between a boat and a board out at Bird we have seen an escalation of dangerous boating operation. The antagonism between 'stinkpots' (powerboats) and 'blowboats' (sail powered craft) is nothing new. I grew up on a Chesapeake Bay fishing boat and can still hear its captain (my Dad) grousing about the sailboats that got in his way. The difference is that my Dad was a waterman who understood maritime rules while the present crew of aggressive powerboaters are far too often 'weekend warriors' who seemingly have no concept of the rules of the road out there on the water. In Texas, anyone with enough money or credit can buy a boat, register it and take it out on the water. Therein lies the problem. This problem is greatly amplified when that same boater inhales a few six packs before ripping about at full throttle in a congested area which was the case in the April 19th incident at Bird.
Meanwhile, reality enters the picture and reality dictates that it does the sailboarder no good to be dead right. Realize the guy aiming that 300 horsepower boat may be drunk, totally unaware of the rules, and definitely a lot bigger than you. Pull up, let them go by, and get their registration number off the bow of the boat- then, if you you really think their operation is dangerous, report it to Texas Parks and Wildlife. Report it to the NPS if you're out at Bird as well as Parks & Wildlife. Increased patrols would be most helpful and reported incidents have some bearing on patrol locations.
On the other hand, sometimes the enforcement folks also err. Veteran sailor and 'local' for many years , Guy Racette, was recently flagged down by Marina Patrol officials who told him he was not allowed to sail where he's tuned his race gear for years in the flat water behind the Marina's breakwater. It turns out the patrol folks were wrong and they were informed of their error by their boss following Guy's letter to the Marina Director.
And now, for something completely different:
If you are like me, you have an influx of visiting friends this time of the year and most of them are sailors. The visitors typically are not in prime sailing shape and often overdue it those first few days on the water. In the past I've talked about Bigeloil as an after session soother of achy muscles. Blistered hands are often a problem as well and stuff called Bag Balm will take care of blisters like a double cheeseburger will cure a empty stomach. One other item that's handy is a tape called Vet Wrap which holds wet or dry helping support tweaked ankles and wrists. All this nifty stuff is available at the Bluff Feed Store owned by Phil and Amy Keyserlingk. Your guests (and you too) will be happy with the relief these products can produce- they're sailor tested and approved! The shop is called the Bluff Feed & Saddle are its located at 3801 Waldron Road (361) 937-3620

Sightings: Wave Day at Port A
The weathermen were forecasting a rare cold front for late Monday Night. A few sailors in far-off Florida, Alabama , and Mississippi saw that same report. Already planning a trip to Corpus Christi to watch The Open, they departed in haste for the Beach at Port A. The local sailors had a much shorter drive. I arrived very early, turned the corner , and was surprised to see many already in the water. The surf was breaking about 4 foot high with great swells on the outside. I rigged the biggest sail, a 5.8. The launch through the surf zone was easy. The sailing on the outside was a cruise through large swells with really clean faces, great for jumping and soft landings. The wave riding on the inside was the attraction and most of the crew were staying inside (I had a great view from the outside). Last to arrive was Olivier, who had decided to sleep-in. He rigged , sailed, slashed , jumped and jibed the first ride out. I guess that makes him the winner, the dude. Hey, Oliver, You The Man!! Chuck, Louis, Jason, Mike, Matt and the rest of the gang were a spectacle for the beach walkers.
Oh, yea, about the Pack from the Gulf Coast. They actually got here to enjoy this session . However , they needed to rig to smaller stuff, and that's when I met Matt Kreft and Stan Lecain, --------These two guys were furiously trying to rig a small sail. One has a piece of mast shoved in backwards through the head/sleeve. The other guy is ramming a mast into the sail from the bottom (the traditional method). Pushing and shoving the pieces, they realize that they have a problem. To an interested observer they looked like, " a monkey doing a math problem". Seems that their local sail seamstress had placed three rows of great zig-zag stitching across the sleeve and sealed it shut. The southern boys and the Texans worked together, found a knife, cut that sail open, and got that sail rigged. So, Stan and Matt, we loved having you, you were great. Come on back!
Lastly, I want all the locals to know that Sonny Ellis was out there, He drove all the way in from Mississippi. A southerner who arrived late was Tommy Whitman, By late, I mean ,days late. However, he must have some really great mojo, cause he brought back the southerly winds just in time for The Open. Just as he has in the past. Seems these boys always bring wind and We hope that you all make it back again.
C'ya out on the water, Chip Biery

Go Fly A Kite
2nd Annual U S Cellular U S Open Kiteboarding Championship
by Peter Nordby
It's only the end of May, but we may already have seen the highlight of the kiteboarding year in South Texas. The final two rounds of Pro and Amateur competition saw riders from around the world taking their performances to a new level. In the second-to-last round, Portland's pro kiteboarder Jeff Howard went higher and landed more cleanly than anyone in the competition on a Cabrinha kite and a hybrid-directional Zero Gravity board. His performance threatened to evaporate the lead that Martin Vari of Oahu, Hawaii / Argentina had held since the beginning of the contest on Saturday. But in the final round on Sunday evening, Martin put on an incredible display of technical wakeboard riding. He pulled amazing altitude on jumps, feather light landings and effortless spins. It was awesome to see the two riders with completely different riding styles in a virtual deadlock. In the end, after throwing out their worst result, Martin beat Jeff by the narrowest of margins. Greg Drexler of Maui, Hawaii rounded out the top three with consistent riding throughout the contest.
In the amateur men's fleet, recent transplant form Houston to Corpus Christi, Rob Gordon won a closely fought battle with Jody Barnett and John Cole. Rob rode his Peter Lynn ARC kites and Zero Gravity twin tip board to victory on consistency throughout the event and by pulling off moves that the other amateurs weren't even attempting. In the final round, Rob landed cleanly what was perhaps the move of the contest. Just before the final horn, he launched a 20-foot jump, grabbed his board and took one foot completely out of the footstrap, and reattched himself to the board just in time to land it cleanly. Besides winning the US Open Title, Rob also showed amazing sportsmanship. In the first heat of the contest, he dropped out to render assistance to a fellow competitor who was broken down and drifting off downwind of the contest area. Rob is a true sportsman already at the young age of 18.
In the Women's competition, Tanya Adams of Montreal, Canada rode consistently throughout the contest. She was really never challenged by the other two women. Yet, she rode hard in every heat, despite dealing with the throbbing pain of severely bruised ribs. That's one tough competitor.
More import than the individual results, kiteboarding added "color" and flash to the event. The combination of windsurfing and kiteboarding at the same venue has totally rejuvenated the US Open by providing non-stop action for the spectators. Hope to see you all on-site for next year's event!

Dear sailing fans,
As the clock ticks down to one month to go before the mother of all streetsails begins, final details are being attended to and the anticipation is high. The dream of pioneering cross country streetsailing is becoming reality.
The greatest challenge has been raising corporate funding. It has not been easy to get the attention of marketing managers and convince them of the publicity value this event holds. The more non-responses and no's I receive the more I want to prove them all wrong. I have had good success with equipment suppliers Fish Outa H2O, Ezzy Sails USA, Globalstar, Da Kine, DeLorme and Speedtech Instruments to provide much-needed gear. Without them, Streetsail Across America would still be just another good idea.
The problem is, it takes more than equipment alone to pull this off. The adventure will come at high personal expense if no adventurous cash sponsors step up to the plate. Personal profit is the last reason why I'm setting out - otherwise I wouldn't still be going! Streetsail Across America is about pure exploration and adventure, and I am willing to share it with all that dare to dream
The task I dislike most is asking for money - I have always been fiercely independent - but in this case I humbly request your assistance, no matter how small. Your donation will not go unrewarded as I promise to list all donors on the project website. There are already two, to both of which I am grateful. Also, I will also refuse all donations that come after the break even point $10,500 from now. I'd be happy to send you a budget. A simple check in any amount sent to:
Bob Torline 4975 Del Monte Ave,
#106 San Diego, CA 92107.
Enjoy following along by logging on to: www.streetsailing.com/acrossamerica.htm
Bob Torline

NPS Conspiracy?
by Roy Tansill
The Padre Island National Seashore may well be a testing site for a nefarious plot to terrorize motorists within the National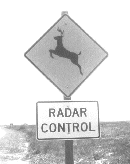 Parks via the use of radar controlled animals. I was unable to confirm the existence of the plot despite several attempts to interview park officials. Replies ranged from 'no comment' to 'you can't prove it' but no one would address this issue despite unequivocal proof that radar controlled deer are roaming inside the park. Shortly after your editor began to investigate this matter, a PT Cruiser was attacked by a large buck on Park Road 22 within the Park's boundaries severely damaging the Cruiser. I believe that 'accident' was in fact an attempt to terminate my investigation but they got the wrong PT Cruiser- the damaged car was one of the Detroit test vehicles often seen around the area. Park employees removed the large buck before anyone was able to examine the carcass (the deer was killed in the attack). I'm sure some of you readers won't believe this story without proof so I've included the photo which first led me to begin the on-going investigation. That sign is located just inside the National Seashore's Northern most boundary on the right side Park Road 22. It was still there when this article was written but I suspect the NPS officials will alter it or remove it entirely soon. Meanwhile, be careful while driving inside the park and keep a lookout for the deer- they might be after you next!
2nd U S Cellular U S Open Kiteboarding Results
Pro Men:
1 Martin Vari - Cabrinha (kites & boards) - 9.245 points
2 Jeff Howard - Cabrinha / Zero Gravity - 9.133
3 Greg Drexler - Naish - 8.233
4 Will James - Naish - 7.987
5 Darian Smith - Mosquito - 7.575
6 Alex Aguera - Naish / Alex Aguera Designs - 7.395
7 Peter Wells - Naish - 7.387
8 Corky Cullen - Liquidforce / Liquidforce - 6.350
9 Mauricio Abreu - Wipika / Wipika - 5.829
10 Alex Kaminskas - Jojo - 4.893
11 Ryan Siebring - Liquidforce / Liquidforce - 3.892
12 Paul Macaj - Liquidforce - 2.348
Am Men:
1 Rob Gordon - Peter Lynn ARCs (kites) / Zero Gravity (boards) - 7.375
2 Jody Barnett - 7.2375
3 John Cole - 7.2083
4 Beau Sauel - 5.8917
5 John Matthews - 5.8389
6 Luk Stanek - Jojo - 5.6583
7 Todd Thibodo - 4.7417
8 Cliff Stone - 4.3833
9 Jack Rogers - 2.7417
10 Charles Emola - 7.2083
11 David Hirth - 1.5583
12 Olaf Johansen - 1.4793
13 Zing Sainz - 1.2639
14 Robert Henderson - 0 (Injury withdrawal)
Am Women:
1 Tanya Adams - Zero Gravity (boards) - 6.979
2 Irma Harris - Siesmick - 0.688
3 Rachel Carson - Siesmick - 0
Action from the '01 Open &Guy Racette's view on the races
TOP TEN REASONS IT'S BETTER
FROM THE BACK OF THE FLEET:
10: It doesn't matter, we paid off race committee to score all finishers alphabetically. (Aguera to Zajicek)
9: No need to deal with all that pesky wind the leaders encounter.
8: Nice, smooth water from all those super-wide board wakes.
7: Chance to get into frank discussion about our feelings with start boat committee.
6: Opportunity to select a nice filet from among hundreds of fin-sliced fish.
5: All the sea grass and jellyfish have been cleared from your path.
4: Opportunity to view latest windsurfing color combinations and fashion trends.
3: Plenty of help available to carry gear up from the water. Also you know immediately who can treat you to the best post-race beverage.
2: Big savings from cancellation of newspaper subscription because you already know the finishing order.
1: No heavy trophies to lug home.
We'll get 'em next year!
Guy J. Racette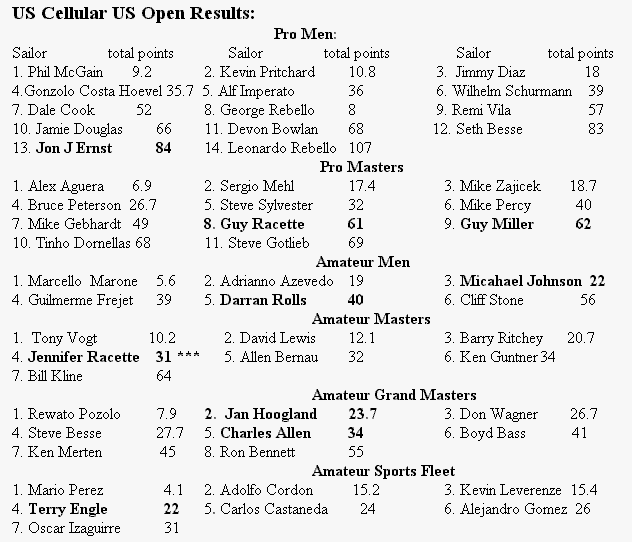 BIRD ISLAND TO CAUSEWAY
Please call me and let me know if you are interested in doing a downwinder.
We could do it on the l4th or 21st of July. Dick Ward (361) 949-0232
This year we are joining Worldwinds (at Bird) for a Galla Event on July 7th.
There will be several events for all. Please come and join us. Enjoy visiting with old friends, making new friends, sailing and a BAR B Q dinner for a donation of $5.00. You don't need to bring a dish only your beverage. However, if you have a favorite desert it will be welcome. This is RSVP - call 949-0232.
Thanks ------- Dick Ward

NOTE: As of May 16, the wind peak data is being taken from iwindsurf.com sensors rather than NOAA's airport sensor. That day I was being pummeled by winds in the mid 30's, overpowered at times on a 4.6 only to read in the next day's newspaper that the peak wind was 16 mph. That was the last straw! From now on the peak wind data will report only daylight winds from iwindsurf.com sites on the water. Roy