Commodore's Notes: The Commodore's New Suit
As I'm writing this, the first really cold front of the season has hit. I sailed yesterday at Port Aransas in a shorty. I hope that I won't have to buy that new full suit but without one, I'm sitting here writing instead of sailing the bay. How many of you will make it out in these conditions? Tuesday's session was well attended as most of the locals showed up. Phil K. was the late and took advantage of the reports from the wind dummy, myself. He rigged bigger and had a great session in the surf. Matt K. arrived and spent the first moments chasing his dog, JoJo around the beach. Seems Jojo likes to play in the path of the passing Motorhomes. In fact quite a crowd showed up as many were surprised by the arrival of the cold front. The accurate and dependable Weather Channel completely missed the forecast. It was a pleasant surprise for those of us that made the trip.
At the last meeting we discussed some ideas for an event agenda for the upcoming summer season. I have been inspired by a recent article in Windsurfing; the one that highlighted the sailing opportunities at South Padre. I think its time to showcase some of the other sailing opportunities that the Corpus Christi Bay has to offer. I was considering the idea of a series of dates when we would meet and sail at some different launches. It would be nice if we could rendezvous at a variety of locations. We could sail, have some fun events; Hero jibes, Best Crash, Reach to the Mark and Back, etc. After that we could have beach party; and sponsor a beach clean up at each site. I have spoken with a couple of potential sponsors and they would support ideas such as this. What we need are some volunteers to promote their favorite launch and undertake to coordinate their particular event. In this fashion, we could each do something to promote the variety of sailing spots around the bay. I'm in for the Fish Pass session. I drove the new road into the bayside of the pass yesterday. In fact they have improved the road. What spot would you like to proclaim your particular favorite? It's time to step up and play a part in the organization.
It's also time for our annual Holiday Party. This year it will be at the commodore's house. My house, not Chester's. Although I have heard that he will be there. It's also a great time to renew your membership. Your dues are very important to the club. Without them there would be no newsletter, and no insurance for our events. The CCWA needs your support. It's time to elect new officers. It's time to plan an agenda for next year. We are all open to other ideas, so bring a Friend, bring a Dish, and bring your Ideas to the table for a fun evening. I'm hoping to hear some great sailing stories!
Chip

WHAT?! SAIL A FORMULA COMPETITION ON A COURSE DIFFERENT FROM OUR SACRED UP/DOWN FORMAT?? HERESY! ANARCHIST!! SSSTONE HIM!!! :)
by Guy Racette
Thinking outside the box. (Pun intended...) I think I have more fun trying not to be killed beam reaching my Potato Chip 95 than on any other point of sail. It's relatively easy to whang the thing up into the wind and rest. It's getting easier for me to head deeeeep, too. But if my pals and I decide that the next mark is straight across, a big grin always creeps across my face. Followed by the Pro-Grip on my boom when I explode.
The Beam Reach will quickly inform the sailor as to his/her excremental integrity. If your stuff isn't together, I mean if your harness lines or your downhaul or your mast track or your boom height is just a bit off, BOOOM! sSSPLAAASSH! Outhaul? Schmouthaul! No amount of fiddling with this adjustment is going to save you if you haven't tuned and (more importantly) PRACTICED this difficult point of sail. In fact taking your attention off the onrushing swells to fuss with it is pretty much a guarantee of calamity.
Aaah, but if you HAVE practiced... All is bliss. The first thing you notice is that Wide Style Boards behave very differently at speed than the boards of a few years ago. The nose scoop is so substantial that purling is almost a non-issue. The board simply does not spear the chop. Next, all that width creates an air cushion beneath you that is sufficient to loft the board, the rig and you right up and out of the water. You don't need to have 25 knots of boardspeed for it to happen either. if you pay attention you can make the formerly dreaded "tail walk" your friend. Even at a nice liesurely pace, thanks in part to the larger fins, you can find that "hovercraft" groove and keep it there.
Even big chop that used to loosen your fillings now disappears almost unnoticed beneath the board. If you focus, you can find the smooth water path hidden in the mayhem of chop.
The thing that can really wreck this nice stable state is the sail- especially in gusty winds. I think even the bravest among us have to learn and accept that you can't use ALL the sail's power ALL the time. Learning to sheet in SUBmaximally is foreign to most raceheads, but essential to beam reach survival. Trust me on this one.
The good news is that the new sails can do this. Not so true a few years ago, when if you let off a little your sail would start to round you up and thus initiate the upwind "Death Spiral". It can still happen, don't get me wrong. But a well-tuned current race sail will perform a lot better and handle a lot easier sheeted out than the sails of just a few years ago.
As for racing, I think it's time we throw a few old-style "M" courses into the mix. Even a slalom. What the hey, we might even learn something. Biff

Editor's Puffs: by Roy Tansill
The monsoon came and went just in time for a meteor shower- I hope you didn't miss it because it'll be 35 years before that light show returns. Something else came back around last month; Tamay Tipton is back in Texas, living in Austin, and doing ok. Expect to see her since she bought all new gear before leaving Hawaii and will be sailing in Corpus often.
Turkey Day arrived clear, sunny, warm and DRY. As the slippery soup reverted to its more normal solid state and the tides receded everything was fine except the wind. Brian Cunningham (AKA The Dog) had his field kitchen set up and shortly after noon he was heating up gallons of peanut oil used to fry the turkies. The unusual SW whispers began to clock around to the SE and fill in teasingly. The beach wasn't crowded but the NTWR contingent formed about half of the campers. I couldn't stick around for the feast this year but from what I saw, it looked like another pleasant Bird at Bird celebration. One thing is certain: the fried turkeys would be delicious. I'm not sure if its the Dog's expertise or the environment of Bird Island Basin but turkey day out at Bird always produces a tasty treat. This year I planned to show up a day late as well, hoping there would be plenty of leftovers as much as I was hoping there would be wind. That was before my day off turned into another day on the job so I made some overtime money but missed both the wind and the turkey. Lunch at Whataburger just doesn't match up to the Dog's leftover fried turkey at Bird.
This year I missed Bird at Bird but I don't plan to miss the other seasonal highlight- the annual CCWA Holiday Party. Don't you miss it either its a pot luck unlike you'll see again until late next year!

Sightings Prestone Tip:
Doug Bailey, Cochiti Lake Ops Mgr., just e-mailed me that it is blowing at Cochiti [evidence that he has been officially 'bitten' - and infected - by the windsurfing bug]. Everyone ditch work, school, or pressing social engagement and head out. And Doug, get back to work...
But before you go, you might want to stop by Wal-Mart or the auto parts store to get a gallon or two of antifreeze, a bucket, and a paint brush. Before you reach off across the lake, be sure to pour a half-gallon into your wetsuit and paint the downhaul lines, batten straps, and harness lines with antifreeze. Don't forget those footstraps too! Don't want your feet to get stuck in the straps. And whatever you do, don't be tempted to swallow the remainder to unfreeze your hands from the booms.
Team Prestone Super Tip: A mixture of olive oil and Prestone painted onto the boom tubes will keep your hands frost free, but don't forget to reapply after every fall though. Warning: Although Prestone readily mixes with high-octane adult beverages, and tops Red Bull in the 'Best Color Cocktail' category, when swallowed, it tends to drastically shorten the life expectancy of all mammals.
One more thing, It's a balmy 31 degrees [and dropping] at Cochiti...
-Barry

Ed's Note: Barry is Barry Ritchie, one of our New Mexico based members. I keep telling him to get his priorities straight and follow the basic tenant all of us locals subscribe to:
'Any climate that won't support palm trees is uninhabitable'
Barry refuses to accept this advice and insists on living on the edge of a mini ice age so we can look forward to additional 'tales of cold sailing' for the next several months

Thanks Jock!
A wish come true! There is now a float centered in the shallow break between the North end of the beach at Bird Island and the first sand island which is designed to keep boaters from using that inside passage back to the boat ramp. This is something that was stressed at all of the meetings with NPS when the Bird improvements meetings were held last Fall. It should all but eliminate the fly-by boaters who were coming in through that pass, often on a full plane to skim over the shallows, from doing so in the future. It was a dangerous situation which should now be resolved before someone got badly injured.... or worse.

British Project to Shatter Wind Powered World Speed Records Land, Ice & Water
"Twenty years from now, you will be more disappointed by the things you didn't do than by the ones you did do. So throw off the bow lines. Sail away from the safe harbour. Catch the trade winds in your sails. Explore. Dream. Discover" (Mark Twain)
Land Record
The first official Wind Powered Land Speed Record was set in France by Bertrand Lambert at 98 mph, and remained at this speed for several years as sandyachting, as it was known at the time, had not progressed sufficiently to reach greater speeds. Following advances in technology and materials the American, Bob Schumacher, raised the stakes. On March 20th, 1999, in Prim, Nevada, USA, Schumacher recorded a land sailing speed of 116.7mph (187.7kph). The craft used was the 'Iron Duck'. It is this record that Windjet aims to beat.
Water Record
World Record on a 500 meter course:
Year Boat Name Skipper Venue Speed
1993 Yellow Pages Simon McKeon Sandy Point, Victoria, Australia 46.52 mph
Ice Record
The Ice Sailing Speed record has remained unchallenged for many years. This has been due to such a phenomenal speed being registered in the early 1900's. The present ice record stands at 143 mph (230 km/h). This was set by John D. Buckstaff, sailing a 'Class A stern steerer' named 'Debutante. The record was set on Lake Winnebago, Wisconsin in in 1938 apparently in a 70mph wind. This record was initially acknowledged but subsequently withdrawn from the Guinness Book of Records due to questions over validity. However, as it is the only officially recorded top speed for an ice yacht, the Windjet team has accepted this speed as the record to beat. Well the British are coming again and this time they're after 2 of our records and 1 French record as well. Want to know more?- check out their website . Look in the archives section for pictures and a video.
This is the Iron Duck, the current land record holder: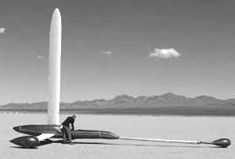 Queen Isabella Causeway Special Report
Last Updated Tuesday November 27, 2001 05:10 PM
The Queen Isabella Causeway reopened Wednesday, Nov. 21, after being closed for 68 days to repair sections of the bridge that collapsed following a barge collision on September 15. A combination of state-of-the-art materials, favorable weather, extended work hours, and an aggressive schedule with overlapping construction phases enabled TxDOT's contractor to repair the causeway in record time.
TxDOT officials are very pleased with the quality of repairs to the Queen Isabella Causeway. The strength of the concrete used in the new structures was thoroughly tested to meet or exceed state and federal standards. A super-plasticizer concrete additive was a key element in enabling contractors to expedite construction. Under normal conditions, concrete cures in 4-7 days. Adding the super-plasticizer to the mix allowed the concrete to cure in 1-2 days without compromising strength. Consequently, the bridge was repaired in roughly one-third the normal time for a project of this type.
Effective Monday, Nov. 26, TxDOT's free vehicle and passenger ferryboat services between Port Isabel and South Padre Island were discontinued. South Padre Island's public transportation system, The Wave, has resumed its normal schedule. TxDOT sincerely appreciates all groups and individuals who contributed their services and support during reconstruction of the causeway.
Its Time to Pay Your Dues!
A New Year is rapidly closing in on us and the CCWA's annual dues are due. If you want to continue to receive the printed CURRENTS each month, enjoy the club's varied events, parties, meetings etc. and do your part in promoting the sport of WINDSURFING in the Corpus Christi area- write that check today and stay a member for another year. A membership form is below.
The Holiday Party is also a good time to take care of this bit of essential business, but get it done before February because only paid members will receive the February printed issue of CURRENTS and we need your help this year, all of you, as the times are changing and we are trying to change with them and for the better.